Teenage is among the most vulnerable ages to acquiring all sorts of psychiatric and behavioral disorders. While outpatient care is readily available to help such individuals, it may sometimes not be enough. In such situations, joining mental hospitals for teens may sound like a good idea.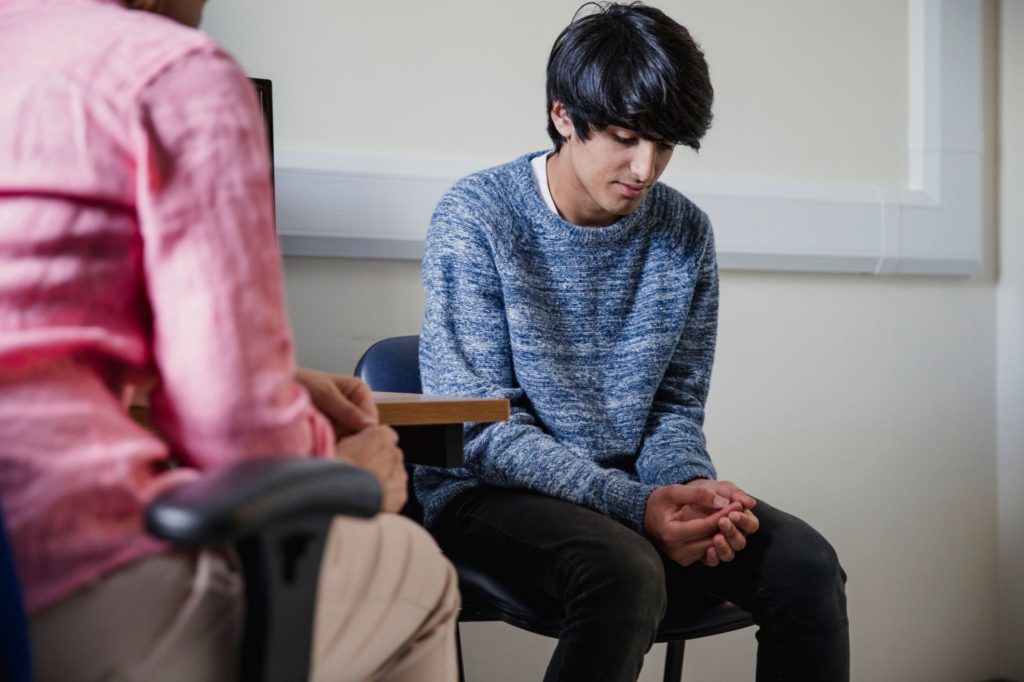 Read Also About Teen Rehab Centers
It is common for many families to feel stressed and troubled by the idea of their teenagers going to a psychiatric hospital. However, remember that the old stereotypes of teen mental institutes no longer apply in today's facilities. On the contrary, mental health facilities for youth today offer compassionate care through multiple evidence-based therapeutic modalities to help them achieve recovery.
The Admission and Treatment Process at Teenage Mental Health Facilities
When a teenager arrives at a youth mental health hospital, they, along with their family members, go through the following steps:
Intake/Evaluation
As a part of this assessment or evaluation, the admissions team speaks with the teenager and different family members to assess their entire mental health history. These evaluations include discussions about their mental health issues or any addictions in the past. Moreover, experts also enquire about the family history of mental illness. Sometimes, they also connect with a teenager's administrators and teachers at school to get a better idea of their struggles.
Development of a Treatment Plan
Once the intake process is complete, the treatment team utilizes the results to make a plan for their clients. For this purpose, different members of the team, such as counselors, psychiatrists, psychologists, nurses, therapists, and social workers, provide their input.
Short-Term Treatment
In most cases, inpatient treatment at a mental health hospital for teenagers takes place for several days. However, the possibility of extending this stay is always there, depending on their individual circumstances.
Discharge Planning
Once a teenager is stable, the treatment team starts working with them and their family members to form a discharge plan. A good discharge plan includes recommendations for their mental health treatment for the coming weeks or months.
Treatment Methods at a Teenage Psychiatric Hospital
The two most crucial things to remember about a psychiatric hospital for youth are as follows:
Treatment is often intense and fast-paced
The duration of stay is usually short, extending up to several days in most cases
These hospitals make use of a treatment team, including extensive staff members with experience and training. These staff members may include psychiatrists, therapists, psychologists, social workers, substance abuse counselors, nurses, teachers, and activity therapists. All these professionals make independent evaluations of every teen and make recommendations regarding treatment, both during their stay in the hospital and after discharge.
Based on the recommendations put forth by each team member, a treatment plan is curated that may comprise one or more of the following activities:
Academic programs to help them stay in touch with the school
Occupational, art, and recreational therapies
Individual therapy with therapists
Multi-family groups
Group therapy with other hospitalized teenagers
Family therapy to help rekindle the relationships and improve family dynamics
Residential Treatment Vs. Teen Mental Hospital: What's the Difference?
While both residential treatment and hospital stays come under the category of inpatient treatment. However, there are several significant differences that must be kept in mind while choosing a treatment plan for a teenager.
Length of Stay
In general, both inpatient treatment and teenage mental health hospitals both continue for 30 days. However, residential treatment may sometimes last longer, for up to 90 days or even more.
Setting
Mental hospitals for teens have dedicated rooms and spaces for therapy, socialization, and experiential modalities. Residential teenage facilities, on the other hand, have warm, homely settings with gyms, gardens, dance studios, music rooms, and spaces for meditation and yoga.
Treatment Modalities
A teenage mental health hospital offers a wide range of treatment modalities based on evidence-based research. On the other hand, residential treatment centers focus more on holistic approaches with therapies, like equine-assisted therapy and adventure therapy.
Follow-Up
After discharge from a psychiatric hospital for youth, clients may transition to other levels of care, such as an intensive outpatient program, partial hospitalization programs, or another form of outpatient treatment. The same happens in residential treatment, but such programs often provide aftercare to continue working on recovery. It is important to note that most hospitals for teens today also include this aftercare service in their routine, just like residential treatment programs.
What Happens After a Stay in a Teenage Mental Hospital?
Once a teen is discharged from a mental hospital, they move to a different level of treatment which may include:
Residential Treatment
Research indicates that residential programs are incredibly effective for treating depression and other adolescent psychiatric institutes. Hence, many teens stay in these programs for up to 90 days.
Partial Hospitalization Program
Teenagers in partial hospitalization programs continue living at home while receiving therapy and treatment at the psychiatric unit. As a part of this program, patients receive treatment for up to six or more hours per day for fixed days of a week.
Intensive Outpatient Programs
Teen intensive outpatient programs work similarly to partial hospitalization programs. The only difference is that they are less intensive, lasting up to three or four hours daily for several days a week.
Private Practitioners
After being discharged from a hospital, many teens may continue working with a private mental health clinician. They may participate in regular individual sessions to establish new, healthy behaviors and family sessions to connect and communicate with their loved ones.
Therapeutic Day Schools
Day schools harbor therapeutic environments to support teenagers' emotional, physical, academic, and behavioral development. With these facilities, teenagers gain high school diplomas and even college credit while setting goals for the future. Moreover, day schools also help them abstain from drugs and alcohol.
Support Groups
Both teenage and parent support groups provide wisdom and peer encouragement to help them get past their challenges. These ongoing support groups help recovering teens stay on track and move towards full recovery without derailing.
FAQs
When do mental hospitals for teens become necessary?
Most teenagers require admission to a mental hospital while still in the acute phase of a mental illness. Some most common psychiatric conditions that may force teens to enter rehab include depression, psychosis, and bipolar disorder. Additionally, the following issues may also warrant admission to these facilities:
Manic episodes
Uncontrollable anger
Hallucination
Threatening to harm others or becoming violent with them
Worsening of a life-threatening issue, such as an eating disorder
Can mental health facilities for youth help them find an accurate diagnosis?
Yes, most young mental health facilities have highly trained and experienced experts who use the following assessments and tools to form a formal diagnosis for every teenager:
Psychiatric Evaluation
Psychological and Neurological Evaluation
Nutritional Screen Assessment
Family System Assessment
Medication Evaluation
Psychosocial Assessment
Health and Physical Assessment
Self-Harm Screen Assessment
Chemical Dependency Evaluation
Recreational/Leisure Evaluation